viewer.h File Reference
Main file for viewer. More...

#include "llviewercontrol.h"


Include dependency graph for viewer.h: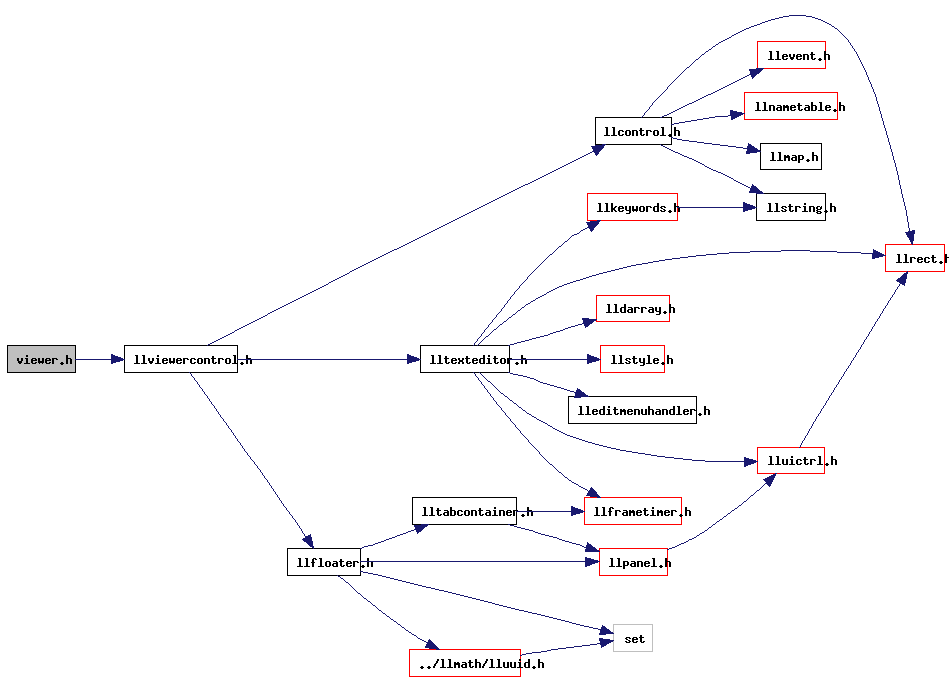 This graph shows which files directly or indirectly include this file:

Go to the source code of this file.



Defines

#define
TOGGLE_HACKED_GODLIKE_VIEWER
#define
REGIONS_PER_LANDSCAPE_EDGE 3
#define
NUMBER_OF_REGIONS
#define
CENTER_REGION



Functions

void
display (BOOL rebuild=TRUE, F32 zoom_factor=1.f, int subfield=0)
void
draw_axes ()
void
fire_shot (const U8 shot_type, const U8 use_physics)
void
add_object (LLPCode pcode, U8 use_physics, const LLVector3d &object_pos_global, const LLQuaternion &rotation, const LLVector3 &scale, const LLVector3 &velocity, const LLVector3 &angular_velocity)
BOOL
add_object (LLPCode pcode, S32 screen_x, S32 screen_y, U8 use_physics)
void
idle ()
void
idle_network ()
void
init_audio ()
void
init_textures ()
void
init_landscape ()
void
keyboard (char key)
void
keyboard_windows (char key)
void
kill_all_trees ()
void
move_sun ()
BOOL
raycast_for_new_obj_pos (S32 x, S32 y, LLViewerObject **hit_obj, S32 *hit_face, BOOL *b_hit_land, LLVector3 *ray_start_region, LLVector3 *ray_end_region, LLViewerRegion **region)
void
audio_update_volume (bool force_update=true)
void
audio_update_listener ()
void
audio_update_wind (bool force_update=true)
void
save_final_snapshot (void *)
void
app_user_quit ()
void
app_request_quit ()
void
app_abort_quit ()
void
app_force_quit (const char *launch_file_on_quit=NULL)
void
app_early_exit (const LLString &message)
void
app_force_exit (S32 arg)
void
do_disconnect (const LLString &message)
void
send_logout_request ()
void
save_avatar (void *)
void
set_view (S32 which)
void
user_logout ()
F32
mouse_x_from_center (S32 x)
F32
mouse_y_from_center (S32 x)
void
print_agent_nvpairs (void *)
void
reload_viewer (void)
void
reset_statistics ()
void
output_statistics (void *)
void
write_debug (const char *str)
void
write_debug (const std::string &str)
void
login_alert_done (S32 option, void *user_data)
void
callback_cache_name (const LLUUID &id, const char *firstname, const char *lastname, BOOL is_group, void *data)
void
load_name_cache ()
void
remove_marker_file ()
const LLUUID &
agent_get_id ()
const LLUUID &
agent_get_session_id ()
void
agent_send_reliable_message ()
const std::vector< std::string > &
getLoginURIs ()
const std::string &
getHelperURI ()
void
resetURIs ()
void
load_region_name_cache ()
void
save_region_name_cache ()



Variables

BOOL
gHackGodmode
LLString
gSecondLife
S32
gNumSessions
BOOL
gNoRender
LLMemoryInfo
gSysMemory
BOOL
gLogMessages
BOOL
gUseAudio
bool
gPreloadImages
BOOL
gGodConnect
LLString
gCmdLineFirstName
LLString
gCmdLineLastName
LLString
gCmdLinePassword
BOOL
gAutoLogin
U32
gFrameCount
U32
gForegroundFrameCount
BOOL
gRequestInventoryLibrary
BOOL
gAcceptTOS
BOOL
gAcceptCriticalMessage
std::string
gChannelName
LLUUID
gInventoryLibraryOwner
LLUUID
gInventoryLibraryRoot
BOOL
gLastExecFroze
F32
gLogoutMaxTime
LLTimer
gRenderStartTime
LLFrameTimer
gForegroundTime
LLTimer
gLogoutTimer
BOOL
gInProductionGrid
S32
gCrashBehavior
bool
gVerifySSLCert
const char *
DEFAULT_SETTINGS_FILE
const U32
PATCH_SIZE
const LLVector3
DEFAULT_OBJECT_SCALE
BOOL
gDisconnected
BOOL
gDisableVoice
BOOL
gQuit
BOOL
gQuitRequested
BOOL
gLogoutRequestSent
BOOL
gInitializationComplete
BOOL
gUseWireframe
BOOL
gPurgeCache
U32
gSecondsPerDay
U32
gSecondsPerYear
BOOL
gPacificDaylightTime
LLString
gLastVersionChannel
LLVector3
gWindVec
LLVector3
gRelativeWindVec
U64
gFrameTime
F32
gFrameTimeSeconds
F32
gFrameIntervalSeconds
F32
gFPSClamped
F32
gFrameDTClamped
U64
gStartTime
LLFrameTimer
gRestoreGLTimer
BOOL
gRestoreGL
BOOL
gDisplayCameraPos
BOOL
gDisplayWindInfo
BOOL
gDisplayNearestWater
BOOL
gDisplayFOV
BOOL
gForceRenderLandFence
BOOL
gAllowIdleAFK
F32
gAFKTimeout
BOOL
gShowObjectUpdates
BOOL
gTeleportDisplay
LLFrameTimer
gTeleportDisplayTimer
std::map< S32, LLFrameTimer >
gDebugTimers
LLVFS *
gStaticVFS
LLUUID
gViewerDigest
LLWorkerThread *
gImageDecodeThread
LLTextureFetch *
gTextureFetch
LLTextureCache *
gTextureCache
LLPumpIO *
gServicePump
LLUUID
gSunTextureID
LLUUID
gMoonTextureID
BOOL
gHandleKeysAsync
F32
gMapScale
F32
gMiniMapScale
F32
gMouseSensitivity
BOOL
gInvertMouse
const S32
AGENT_UPDATES_PER_SECOND = 10
LLString
gWindowTitle
LLString
gDisabledMessage
BOOL
gHideLinks
const S32
MAP_REGION_TO_X [NUMBER_OF_REGIONS-1]
const S32
MAP_REGION_TO_Y [NUMBER_OF_REGIONS-1]
const BOOL
FOR_SELECTION = TRUE
const BOOL
NOT_FOR_SELECTION = FALSE
const U8
YES_PHYSICS = 1
const U8
NO_PHYSICS = 0
---
Detailed Description
Main file for viewer.
LicenseInfo

firstyear=2000&license=viewergpl
Copyright (c) 2000-2007, Linden Research, Inc.
Second Life Viewer Source Code The source code in this file ("Source Code") is provided by Linden Lab to you under the terms of the GNU General Public License, version 2.0 ("GPL"), unless you have obtained a separate licensing agreement ("Other License"), formally executed by you and Linden Lab. Terms of the GPL can be found in doc/GPL-license.txt in this distribution, or online at http://secondlife.com/developers/opensource/gplv2
There are special exceptions to the terms and conditions of the GPL as it is applied to this Source Code. View the full text of the exception in the file doc/FLOSS-exception.txt in this software distribution, or online at http://secondlife.com/developers/opensource/flossexception
By copying, modifying or distributing this software, you acknowledge that you have read and understood your obligations described above, and agree to abide by those obligations.
ALL LINDEN LAB SOURCE CODE IS PROVIDED "AS IS." LINDEN LAB MAKES NO WARRANTIES, EXPRESS, IMPLIED OR OTHERWISE, REGARDING ITS ACCURACY, COMPLETENESS OR PERFORMANCE. $/LicenseInfo$
Definition in file viewer.h.
---
Define Documentation
---
Function Documentation
---
Variable Documentation
---
Generated on Thu Jul 1 06:11:03 2010 for Second Life Viewer by

1.4.7